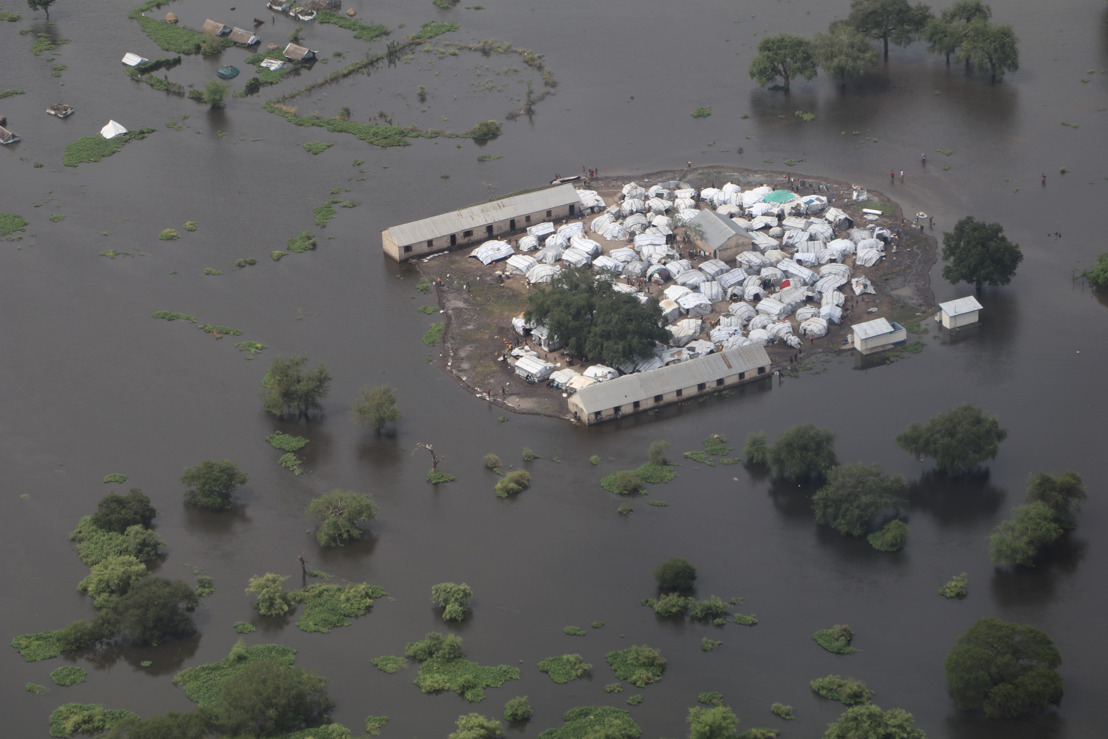 Severe flooding in South Sudan and Ethiopia leaving people without adequate food, water or shelter
Tuesday, October 27, 2020 — Severe flooding is affecting hundreds of thousands of people across a wide swathes of South Sudan and Ethiopia, inundating homes and leaving people without adequate food, water or shelter.
South Sudan
"This year's floods are happening against the backdrop of multiple emergencies including COVID-19, increased violence and fighting, a growing economic crisis, and high levels of food insecurity," said Ibrahim Muhammad, MSF head of mission in South Sudan. "Now, we are preparing for an increase in diseases in all flood-affected areas, such as diarrheal diseases and malaria, given the high risks caused by displacement and crowding, poor hygiene conditions, and a lack of functioning latrines."
MSF is responding by providing medical care in flood-affected areas of Greater Pibor, Jonglei, Upper Nile and Unity states. In the last two months, MSF treated more than 13,000 patients in and around Pibor, including more than 5,000 children under five years old. MSF treated about half these patients for malaria and more than 160 children for measles.
Malnutrition is also rapidly increasing in the Pibor area. With water levels still rising, MSF is concerned about the viability of its clinic in Pibor and is looking for alternative sites on higher ground outside of town.
In Old Fangak, a town of about 30,000 people in a wetland area of Jonglei state, flooding began in July and water levels are continuing to rise.
"Many houses are affected on a daily basis," said Dorothy I. Esonwune, MSF project coordinator in Old Fangak. "The focus of everybody in Old Fangak is on scooping out water from around their homes and building up dikes out mud."
An additional 3,000 people arrived in Old Fangak in late September after heavy rains flooded their homes in the surrounding villages.
Patients that do arrive at MSF facilities sometimes describe a harrowing journey. When 13-year-old Yoel fell ill, his father Stephen Manyang Chan, a widower and father of five, carried him to the MSF clinic in Leer, Unity State, walking through chest-high waters for two hours. "There are no roads to the hospital, only water," he said.
As the floods continue to impact the population across South Sudan, MSF is conducting a series of aerial and ground assessments in Jonglei, Upper Nile and Unity States to identify the most-affected communities.
Ethiopia
Major floods have hit Ethiopia flooding huge areas and leaving parts of Dasenech, in the south of the country, under water. High water released from the Gilgel Gibe dam nearby and the growing and overflowing waters of Lake Turkana worsened the situation as water levels continue to rise. More than 46,000 people, around 60% of the population, have been displaced by the floods.
The floods are preventing nomadic communities from reaching the places they usually go to sustain their living. The waters rose so fast that pastoralist communities had to leave their belongings and animals behind. Many families lost everything; their animals, their stores, their homes. Surviving cattle are now dying because the floods overflew grasslands and destroyed pasture.
MSF teams first responded in September, providing medical care, safe drinking water and basic necessities, including building latrines alongside displaced communities.
"We reached nine sites where around 46,000 displaced people had sought refuge. Three sites were only accessible by boat," says Nigatu Aweke, clinical officer and medical referent for MSF in Dasenech, Ethiopia.

"We have a medical team permanently based in one health centre and a mobile team who are getting healthcare to the worst affected communities. However, referrals are the biggest challenge; the nearest hospital is far away. Women with complications during delivery need to travel for two hours to reach care, and patients with other severe health conditions need to travel four hours away."
Many patients have malaria, diarrhoea or upper and lower respiratory tract infections, due to the humidity, poor hygiene and crowded living conditions. MSF has already seen a rise in the number of patients with cholera in state-run treatment centres. MSF health promoters are running health education sessions which cover hygiene and infection prevention and control to stop the spread waterborne diseases, such as malaria and cholera.
"Safe and clean water is the most urgent need," says Nigatu Aweke. "Some sites have water pumps, while others depend on water trucking, but trucking in water to reach a nomadic community is challenging. It needs a flexible, movable set up and good logistics amid the rising water."
To prevent the spread of waterborne diseases MSF is helping local authorities provide 45,000 litres of water each day. MSF has distributed 3,590 kits of jerry cans, soap, aqua tabs and cooking pots to households.
After the floods destroyed many communities' food supplies, MSF teams are also concerned about a rise in malnutrition due to increased food insecurity and have so far screened 3685 children for malnutrition. 95 were severely malnourished and joined a feeding programme. Eleven had to be hospitalised.