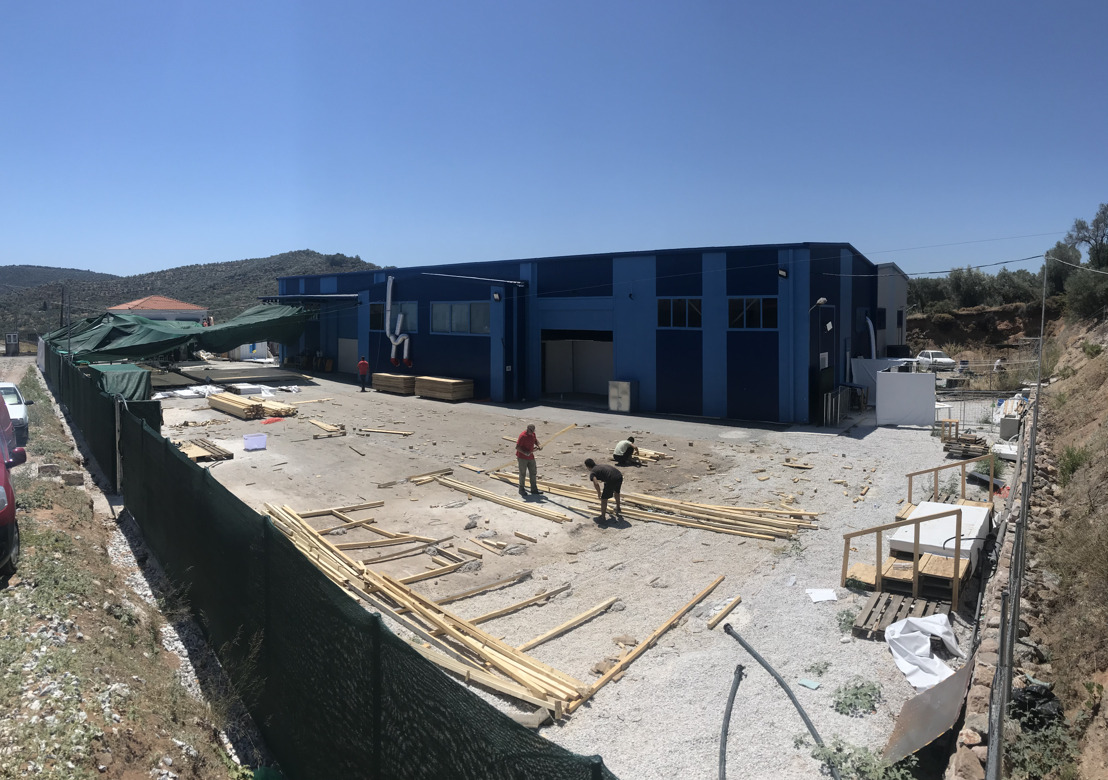 Greece - MSF forced to close COVID-19 centre on Lesbos
Thursday, July 30, 2020 — Athens – A COVID-19 isolation centre set up on the Greek island of Lesbos by international medical organisation Médecins Sans Frontières/Doctors Without Borders (MSF) has been forced to close after local authorities imposed fines with potential criminal charges related to urban planning regulations.
MSF strongly condemns the authorities' failure to identify a solution to keep the isolation centre open when there is still a risk of COVID-19 spreading through nearby Moria reception centre, where more than 15,000 refugees are living in overcrowded and unhygienic conditions. MSF warns that the closure of the isolation centre - which will significantly reduce the COVID-19 response capacity on the island - could have terrible implications should an outbreak occur in Moria.
"We are deeply disappointed that local authorities could not quash these fines and potential charges in the light of the global pandemic, despite some efforts from relevant stakeholders," says Stephan Oberreit, MSF's Head of Mission in Greece. "The public health system on Lesbos would simply be unable to handle the devastation caused by an outbreak in Moria – which is why we stepped in. Today we had to unwillingly close a crucial component of the COVID-19 response for Moria."
MSF's COVID-19 isolation centre on Lesbos opened on 6 May, the result of efforts by medical organisations across the island and supported by public officials and the local hospital. The isolation centre was the only place on Lesbos providing a safe space in which people from Moria displaying COVID-19 symptoms could be isolated and provided with medical care.
Since 1 July, the isolation centre has been imposed with fines and potential criminal charges by local authorities related to urban planning regulations. This comes despite it being part of the emergency preparedness plan set out by the Minister of Migration and aimed at preventing the spread of COVID-19 among the men, women and children contained in Moria reception centre.
"It's astonishing that we are being hampered by local authorities while trying to protect vulnerable people, when, just next to us in Moria, we see an enormous violation of human dignity, with thousands of people trapped in inhumane conditions," says Oberreit.
Governments including the UK must provide sanctuary
The 15,000 people currently in Moria have little space and limited access to soap and water, making it impossible to carry out preventive measures such as physical distancing and regular handwashing. More than 300 people at high-risk due to their age or chronic medical condition, as well as their families, remain trapped in these dangerous conditions. MSF continues to call for the immediate and urgent evacuation of all vulnerable people, including those at high risk to COVID-19, from Moria to safe accommodation elsewhere.
"As part of the recently signed Joint Action Plan by the UK and Greece on Migration, the UK committed to ensuring protection and support is made available to the most vulnerable. This has to involve taking every step possible to prevent the spread of COVID-19 in Moria, which includes making sure that there are safe and legal paths out of this dangerous situation, and as part of that providing sanctuary for vulnerable people in the UK," said Vickie Hawkins, executive director of Medecins Sans Frontieres UK.
"This is not the first and it probably won't be the last time that we and other humanitarian organisations face these types of obstacles as we try to cover the gaps left by European and Greek authorities in assistance to migrants and refugees," says Bertand Perrochet, MSF's director of operations. "For the past five years we have seen the terrible harm inflicted by containment policies on people trapped in reception centres across the Greek islands. Now, during a global pandemic, MSF has been prevented from responding to a public health risk that the authorities have neglected."
MSF is ready to discuss with Greek authorities what should be done regarding the risk of COVID-19 for people in Moria reception centre, while maintaining its paediatric, sexual and reproductive health and mental health services at its clinic in Moria.
ENDS